How to use a drip email marketing strategy to grow your optometry practice
How to use a drip email marketing strategy to grow your optometry practice
Email marketing is important for almost any business, and drip campaigns are a really useful tool within that umbrella.
But if you just do a Google search for how to run drip email marketing campaigns, you're going to find a lot of advice that's useless for optometry practices. Worse, some of the strategies used by retail businesses or B2B companies would be harmful to your practice. So, with our unique expertise in both email marketing and within optometry, we wanted to offer clearer guidance that's specific to optometry practices.
Simply put, a drip email marketing campaign is a series of emails you set up to go out on a schedule. They can be used to welcome new patients, offer education on eye care topics, help people who are interested in your practice become new patients, and more.
In this article, we'll take a look at what drip email marketing campaigns are and how they can benefit optometry practices in particular. Then, we'll explore how to run a drip campaign, including building your email list, creating emails your patients want to read, how to improve your campaign's performance, and more.
We'll also go into common pitfalls to avoid — and look at real examples of drip campaigns done right.
It's a huge topic, but don't worry: We're going to start with the basics. So let's dive in!
Understanding the Email Drip Campaign
Before we go into how to create a drip campaign, we're going to take a look at what they are (and aren't), as well as different types you can use to grow your practice.
What is a drip campaign in email marketing?
A drip campaign is a series of emails scheduled to be sent out on a schedule. The schedule begins when an email address is first added to the campaign list.
For example, the first email in this campaign might be sent out as soon as the person gives you their email address (and permission to email them). The second might go out three days later, the third two weeks later, and so on — until all of the emails in the series have been sent.
Rather than going to your entire list on the same day, these campaigns run continuously. Different people receive emails on different days based on when they signed up for your list.
Types of drip campaigns
A drip campaign is a structure for email marketing. Combine that structure with a type of content to create your campaign.
Welcome emails
Welcome drip campaigns usually begin when someone first subscribes to your email list. Maybe they came in for an appointment and you collected their email on the way out; maybe they filled out a form on your website because they're interested in making an appointment.
In general, welcome email campaigns are aimed at new patients, not existing ones. (If a patient has been regularly coming into your practice for years, it can be jarring to suddenly get an email welcoming them to your practice!)
These campaigns help take advantage of that first point of contact to help establish your practice more firmly in the patient's mind, or to help potential patients make the leap to schedule that first appointment.
Educational content
Educational drip campaigns help your subscribers learn more about a certain topic. You share your insight and expertise, establishing your practice as a helpful source of accurate eye care information.
Offering high-quality educational content on eye care topics that your patients care about is a great way to build up trust with your patients. It can also help them take better care of their eyes and grow their understanding of why good vision care is so important.
Promotions and offers
Special promotions and offers can help motivate people to act, rather than putting off making that eye exam appointment, replacing their glasses, or trying a new type of contacts. They're effective for two reasons:
They give recipients a reason to act (to take advantage of the offer).
They create an urgency to act (to get the offer's benefit before it expires).
Seasonal sales on eyewear, complimentary gifts with a purchase, or limited-time discounts are all options your practice can consider. Of course, be sure to follow all applicable laws around discounts and promotions in your area.
Re-engagement campaigns
A re-engagement email campaign aims to win back patients who haven't booked an appointment or made a purchase from your practice within a certain span of time. These campaigns are highly effective because they focus on retaining customers, rather than starting from scratch to find new ones.
We aren't talking about spamming your patients with identical "you're overdue for an appointment!!" reminders (which can quickly become a nuisance). Rather, a good re-engagement campaign will thoughtfully space out each email in order to maximize its impact.
You might:
Start with an email reminding the patient that it's time to book their appointment.
Follow up with a "nudge" encouraging the patient to book to take advantage of insurance benefits.
Follow up again, presenting a different way to book an appointment or sharing information on what to do if their insurance has changed or ended.
Let the person know you will give them a call soon to schedule the appointment (and then follow up with a phone call).
Ask if the person has moved away and would like to be removed from the list. This can help prevent your emails from being marked as spam and can also jog reluctant patients to finally book that appointment.
For a re-engagement campaign like this, you will need to ensure that as soon as the person does make an appointment — or gets in touch to say they've moved away or switched providers — they are removed from the campaign.
Once you have a solid idea what you'd like to get out of your drip emails, it's time to get started building your campaign.
Before we dive in, we should note that you can hire help for any (or all) of these steps. However, understanding what's involved can help you communicate your expectations clearly to digital marketing partners and give you an idea of the kind of results to look for.
Building Your Email List
The success of your drip emails really comes down to the quality of your email list.
There's really no overstating the importance of your email list quality to your marketing efforts. A good list expands your reach and allows you to quickly and easily reach the right audience. A bad list wastes your time, burns through your goodwill with patients, and diminishes the effect of your marketing efforts.
How do you build a good list to reach your target audience? It begins with collecting email addresses the right way.
How to collect email addresses
To add contacts to your email list, you may want to try:
Website sign-up forms. These can be general (sign up to hear news and receive offers from our practice) or lead to specific campaigns (such as a sign-up on a page about diabetic care that will send the reader a series of articles on how to keep their eyes healthy if they have diabetes).
Social media marketing integration. If you have a following on social media, you can encourage your followers to sign up for your email list there.
In person at the office. Your desk staff can ask: "Can I have your email address to get news about our practice?" This should be part of the regular flow of check-in or check-out. This is one of the most effective ways to get your patients on your email list! You can also include a space for email and a check-box to opt into messages on intake forms.
In person at events. If your practice sponsors local events, be sure to collect names and email addresses from the people you meet there. Make it clear that they will be getting messages from you by adding their email address, or include a box to check.
Whichever method you choose, it's crucial that you get the person's permission to send them ongoing email marketing messages. If you don't, you'll be running afoul of laws around email marketing.
In addition to potential legal consequences, sending emails to people who never signed up for them leads to spam reports and complaints that can tank your email performance or even get you kicked off your email management platform.
Segmenting your email list for targeted campaigns
Your email platform allows you to store information for each of your contacts via methods like tagging.
Patients vs. prospects. This is one of the biggest distinctions you'll want to make. Someone who has never been to your practice before should get very different emails than someone who's already a regular patient!
Demographics and preferences. Different vision concerns, age, kids, types of services, even favorite brands of eyewear.
We'll talk more about why personalization and segmentation are important below. But even before you start leaning into personalization, you'll want to begin collecting this information; that way, when you have content you know will be a hit with the parents in your practice, you can get the message out right away.
Creating Compelling Content (Running a drip campaign)
Good, relevant, and engaging content is crucial to your campaign's success. You can send the right email at the right time to the right people . . . but if they open it up and immediately delete it (or never open it at all!), then your efforts are for nothing.
So what makes an email "compelling"?
For every email you send, consider: what is the value of this email to the people I'm sending it to?
What are they hoping to get out of opening your email? When they're done reading, do they feel like they got what they came for?
Types of content
The content of your emails will vary based on the type of drip campaign you're running. Here are a few ideas:
Educational articles about specific eye health topics, as we discussed above.
General tips for maintaining good eye health.
Promotions and discounts on eyewear.
Patient success stories, testimonials, and positive online reviews.
Updates about your practice: your optometrists, your staff, your physical space, professional development, etc.
Crafting effective subject lines and email copy
Your first goal is to get the recipient to open the email. A well crafted subject line can make all the difference here.
A good email subject line gives the reader a reason to open the email. What's inside? Why should they read it? Maybe it's a great money-saving discount on a brand of eyewear they like, or tips for avoiding dry eye in the winter. Think about what benefit the recipient will take away from your email. (And if there is none, maybe rethink the email!)
Email subjects should also be short — or at least, short enough. Long subject lines get cut off in email inboxes.
Incorporating visuals and multimedia
Big blocks of paragraph text look exhausting to read, even at a glance. Including photos, graphics, and other visuals can make your email more visually appealing.
But these visual elements aren't just for decoration. They should tell the same story as the written message does.
Some ideas for visual elements you can include:
Photographs of your practice and your staff.
Your practice's logo. (Be sure to use the high-quality file from your logo artist or graphic designer, rather than one that's been highly compressed and looks pixelated or blurry.)
Bulleted lists (like this one!), which can make a list easier to read and skim.
Headings to break up sections.
Stock photographs or illustrations that correlate with the topic you're writing about. (Be sure you have permission to use these in a commercial context.)
Automation and Timing
Today's email automation tools make it easier to turn a drip campaign "on" and let it run without requiring a ton of hands-on effort from you or your staff.
When you set up a new drip sequence, you can start by writing down the purpose of each email, as well as the "call to action," or the thing you want the reader to do, it contains. Then, be sure the subject line and the content inside align with that purpose and desired outcome.
Setting up drip sequences
When you're ready to create your drip campaign, you'll work within your email marketing provider to create the emails, the schedule, and the process that triggers the drip campaign to start.
Different providers offer different tools. If your CRM integrates with your website, for instance, you may be able to easily set an email drip campaign to start whenever one of your site visitors provides their email address. Most providers can do all kinds of integrations; however, certain tools make it easier than others.
Mailchimp's drip campaign tools live under the "Automations" page and are sometimes called "customer journeys." For Constant Contact, you'll want to choose the "Marketing campaigns" drop-down menu, then select "Email Automation" and choose the relevant campaign type, which will create an automated series. Hubspot features email drip campaigns as a template option when you create a new campaign.
These and other services should have tutorials to walk you through the process.
Determining optimal timing for email sends
When you're thinking about timing for your email sends, think about the speed at which your practice runs. Your patients aren't scheduling eye exams every month, and they're also probably not buying new eyewear every month.
If you're running a campaign aimed at encouraging someone to book a first appointment, you may want to email more frequently; perhaps a few times in one month, before the campaign ends or slows significantly to a check-in every six months or so. A welcome drip campaign for patients who have already scheduled an appointment will probably go slower, so as to not overwhelm them. An educational campaign might send a new email every week on the same day to create a reading habit.
Testing the timing of your emails (both in terms of day, time of day, and spacing) is the best way to figure out what works and what doesn't.
Personalization and Customization
Apart from avoiding Email marketing pitafalls, ensuring your emails are personalized and custom can go a long way towards keeping your readers' attention. That's because personalization signals that the message is for them, rather than giving them another reason to instinctively discard it. Additionally, it can help you get the right message to the right people.
Tailoring content to recipient preferences
Tailoring your content can involve personalizing within an email, or sending different types of emails to different people.
What makes this worthwhile? Well, sending emails that are highly relevant to the recipient increases the chances that they'll continue opening with and engaging with the messages you send.
For example, let's say you recently revamped a space in your practice to be a corner for kids to play, with cute toys and a fresh, colorful look.
If a parent of a young child gets that message, they might think: Wow, this is great! It will make appointments go more smoothly. It's nice to see an optometrist who cares about kids and families.
But what if you send that same email to someone without kids?
Well, they might think Oh, what a lovely thing for the office to do. That's your best bet.
But they also might think: Is this practice mainly for families? Am I in the wrong place? Or even: Great, the waiting room is going to be noisy and full of kids! (Even though it's likely to be much quieter with the kids happily occupied. But we digress.)
In all honestly, if your customers get an occasional message that isn't tailored to them, it might not even register. But over time, it can begin to create the feeling that "these messages aren't relevant to me." That leads to lower open rates and more unsubscribes. And then, when you do have something that this patient would really like to hear, you may have already damaged your chances of getting them to open that email.
Using personalization tokens
Different email marketing platforms use different terminology to talk about the ways in which you can personalize and segment your audience: tags, lists, personalization tokens, attributes, and more. This is basically metadata about an email address that allows you to personalize and target emails.
For an optometry practice, relevant information might include first and last names, prospective patients vs. current patients, whether the person brings young children into the practice, or eyewear brands the patient enjoys.
Analyzing and Improving Email Drip Campaign Performance
How do you know that your drip email campaigns are working? It's not enough to create your campaign, turn it on, and let it run without ever thinking about it again. You'll want to make sure the campaign is helping you reach your goals by tracking the right metrics, analyzing the data to make informed adjustments, and using continuous improvement strategies.
Metrics to track
How do you define success for your drip campaigns? Find the metrics that match most closely with your goals and be sure to track them. Your email platform likely automatically collects this information.
Metrics you might choose to track include:
Open rates. What percentage of your email list opened the email?
Click-through rates. What percentage of people who opened the email clicked a link inside?
Conversion rates. What percentage of people who received the email took the action you wanted them to take (such as booking an appointment)?
Different campaigns will have different key metrics. For example, if you collect emails at an event and add people to a drip campaign designed to get them to make an appointment, your key metric is the conversion rate.
Or let's say you have an educational campaign running that patients with diabetes can opt into to learn more about diabetic eye care. Your goal is to keep them engaged, build additional trust with your practice, and encourage them to stay on top of appointments at the best frequency for their vision needs. You may not have anything to click inside all your messages; instead, maintaining good open rates is your goal.
A/B testing to improve results
A/B tests are a crucial tool that digital marketers use to test which version of a campaign is most effective. Good email marketing platforms have A/B tests integrated into their functionality, though you may have to upgrade to a higher tier to access them.
A good A/B test changes one thing about the campaign to highlight the impact of that change on the overall campaign. You might test what days and times you send emails, the space between emails in a campaign, the content inside the email, the size or color of a button, etc.
You send both versions to a comparable group of people. Then, you compare the performance of your "control" campaign to the changed version.
A/B testing allows you to make incremental improvements to your campaign. The winning version becomes the new "control," and then you can test other changes.
Analyzing data
Collecting data is only the first step. Luckily, your email provider likely does that for you, though you will still want to pull those numbers out into a format you can share and analyze.
Compare to average and previous campaigns' performance. Look for outliers that do especially well, or especially poorly, and then do some digging to figure out why.
Continuously improving campaigns
Based on the data you get back, make improvements to your campaign. Then, see how those changes fare and continue the cycle! You should regularly revisit all your marketing efforts to ensure they're working well for you.
Running a successful drip email campaign for your optometry practice involves building a quality email list, creating compelling content, optimizing timing, employing personalization, and continuously improving performance.
Following these steps, you can maximize the impact of your email marketing efforts, ultimately reaching your goals and engaging your audience effectively. Stay vigilant in tracking metrics, analyzing data, and making informed adjustments to ensure your campaigns continue to deliver positive results.
Email marketing is a dynamic tool that, when used strategically, can greatly benefit your practice.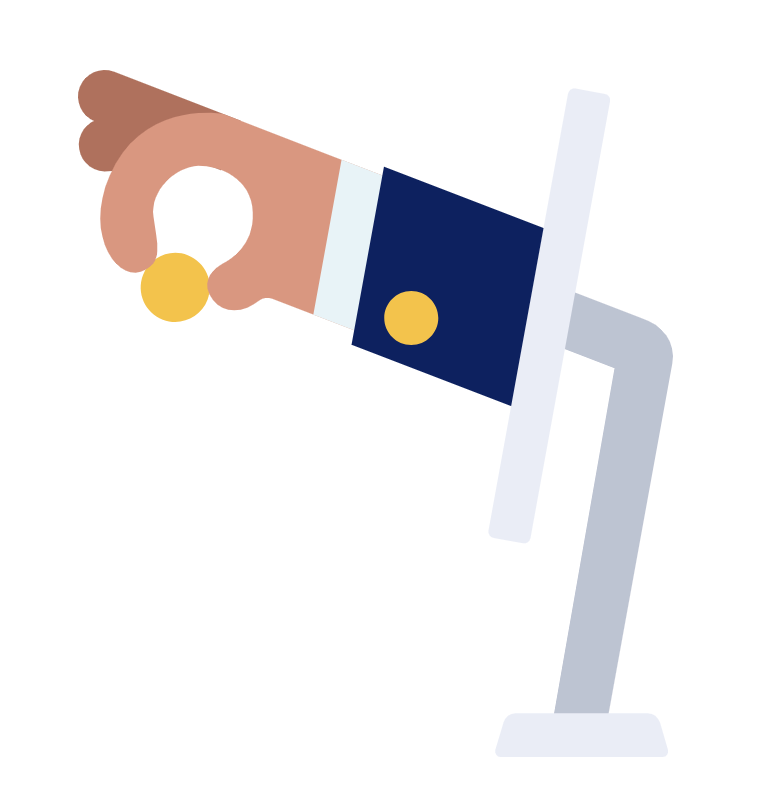 Help to make your practice stand out
Want help ensuring your practice is attracting new patients who are a good fit for your business? We'd love to talk about how our experience in the optometry industry can help your practice thrive.